Can a holistic health lifestyle be easy? When I started to live a healthier lifestyle many years ago, I made it anything but easy! I wanted to change everything all at once. It became chaotic.
It was so chaotic, I thought of quitting more times than I'd like to mention.
Eventually things got easier, and I am glad I stuck it out. When I talk to people now they seem to think I'm an anomaly.
How could I change the way I ate, slept,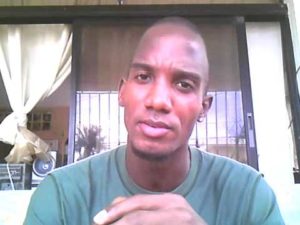 and adopt a better way of living. Many people struggle with adopting new habits which help them live a better life.
The ironic thing is "healthy" isn't hard…it can be simple if you let it be. The question is will you let it be easy?
Check out the interview I did recently with Cochise Tarak-Saa on his book,"Holistic Health Made Simple."
Who is Cochise Tarak-Saa?
Cochise Tarak-Saa is a author, health consultant and a documentary films producer. Most notably Tarak-Saa has authored 4 books on health as well as enjoyed a rich professional sports career.
He is currently writing his fifth book and has recently finished co-producing a second documentary film on health titled, "Full Body Detox: The Movie" which debuted in January of 2016.
Cochise's view on health and wellness is very interesting as he has traveled to over 45 countries studying cultural anthropology and foreign health practices from South America to the Middle East.
His various voyages have led him to examine optimal health from it's most fundamental lense.
The findings were simple. Your state of health is not a direct reflection of the amount of income you earn.
How long you live has more to do with what you don't consume (mentally & physically) than what you do. A life low in stress coupled with a diet rich in fresh produce, water, fiber and other essential nutrients are a great infrastructure for optimal health.
Inside The Episode
I was "googling" something many years ago and discovered Cochise Taraak Saa. I bookmarked him in my computer and wanted to have him  on the podcast.
The computer I bookmarked him on started slowing down and I eventually got rid of it.
Cochise was a distant memory until a good friend of mine posted one of his videos on Facebook, and I was able to contact him.
When I got the chance to reach out, I did and he agreed to be on the show.
As you listen, you'll be able to hear an instant connection.
Interviewing Cochise was like interviewing myself.
We have several similarities.
We're almost the same height, we both played basketball collegiately, and holistic health found us through roundabout circumstances. You're going to enjoy this show!
It gets the Phat-Man seal of approval!
What you'll learn
* We'll talk bout water from a different perspective, you don't know this about water!
* How Cochise almost died from pneumonia and the substance that saved him.
* Why honey is so much better than regular sugar.
* The best exercise you can do for weight loss and better heart health.
Click Below To Listen To This Episode Now (00:49:00)