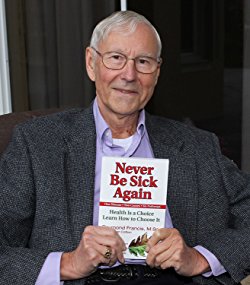 Raymond Francis visits Perfectly Healthy And Toned Radio to discuss his book," Never Be Sick Again."
Raymond Francis, DSc, MSc, RNC, is a chemist, and a graduate of MIT, and a registered nutrition consultant.
Raymond is an internationally recognized leader in the field of optimal health maintenance, chairman and CEO of Beyond Health Corporation, the publisher of Beyond Health News, host and producer of the Beyond Health Show, author of the highly-acclaimed books, Never Be Sick Again and Never Be Fat Again and of the Pathways to Health newspaper columns.
An in-demand speaker, he has addressed health conferences all over the United States, as well as in Germany, Switzerland, Greece and Egypt.
Click Below To Listen To This Episode Now (01:20:00)