Never Be Sick Again by Dr. Raymond Francis
Everyone wants to be healthy. Some people are healthy for a period of  time and then they become sick.
Why does this occur and get anything be done about it? I encourage you to listen to the POTM and find out what you can do to move into wellbeing.
This is one of my very first interviews and since this interview, I've gone on to meet Dr. Francis and interview him on two of his other books.
Who is Raymond Francis?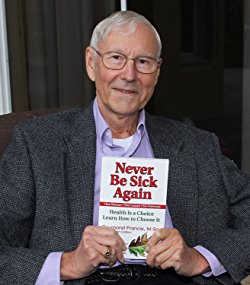 At the height of his career as president of a management consulting firm, Raymond's health began declining. What began as fatigue and allergic reactions, ended up as several autoimmune syndromes, chemical sensitivities, chronic fatigue, and acute liver failure.  At age 48, his imminent death was considered a medical certainty. With only days to live, he used his knowledge of biochemistry to save his life and restore his health. Now age 80, Raymond enjoys an extraordinary level of health and vitality.
Raymond is a former U.S. Army officer who served in a combat infantry division. He is listed in standard references including: Who's Who in the World, Who's Who in America, Who's Who in Medicine and Healthcare, Who's Who in Science and Engineering and Who's Who in Finance and Industry. He has written five breakthrough books, the international bestseller Never Be Sick Again, Never Be Fat Again, Never Fear Cancer Again, Never Feel Old Again, and The Great American Health Hoax.
Raymond has addressed health conferences all over the U.S. and in Abu Dhabi, Canada, Egypt, Fiji, Germany, Greece, Italy, Mexico, Qatar, and Switzerland. He is a member of the American Chemical Society, the National Health Federation, the Association of American Physicians and Surgeons, the Orthomolecular Health Medicine Society, the Institute for Functional Medicine, and the American College for Advancement in Medicine.
Raymond was a syndicated radio talk-show host for 16 years. He has made over 2,000 television and radio appearances. He is president of Beyond Health International, a supplier of health-supporting products and advanced health education, and Chairman of The Project to End Disease (TPED).
Inside The Episode
Noelle Quero ( she's been on the show) told me about Dr. Francis and his book several years ago. I remembered googling Raymond Francis in an effort to find information on him so I could schedule him on the podcast.
I kept coming up dry and then one day I found his company called Beyond Health and called it.They put me in touch with his secretary and I was thrilled!
It turned out he lived right in my backyard in Coral Springs, Florida.
Since initially having him on the show, Raymond and I have become friends. We've met for lunch and enjoyed some good conversation.
When I met Raymond, I didn't know how old he was until he told me. He's 80 but upon meeting him, you wouldn't think he's that age.
I live in South Florida and due to the large segment of retirees we have in this area, I've seen my share of 80 year olds.
It isn't my intention to put anyone down by this statement but Dr. Raymond Francis isn't your regular 80 year old.
He's probably one of the most positive, happy, and healthy people you'll ever meet.
He also moves extremely well. He's "def" my role model as I go into my later years.
What You'll Learn
* How Do We Get Sick?
* Why do drugs tend to make you sicker?
* What does cellular malfunction have to do with illness?
* Why diet matters for longevity?
* Should you use supplements?
* Why colds do permanent damage to the body?
Click HERE to listen to the podcast.